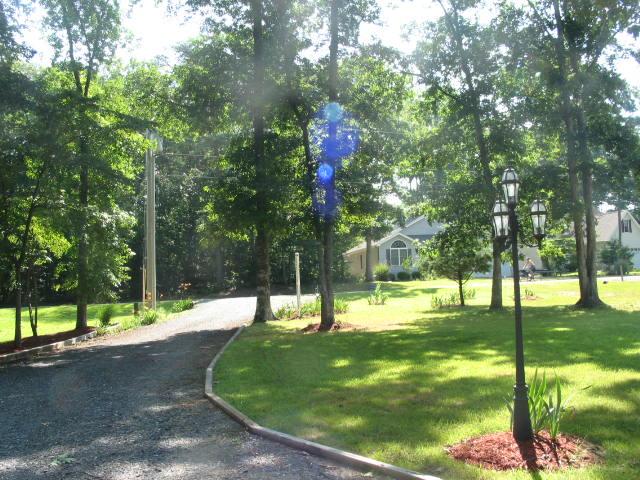 WE 'PLANTED' OUR WONDROUS PEACE POLE IN JUNE, 2009 (Says "May Peace Prevail On Earth in 8 languages) PRIOR TO THE DEDICATION CEREMONY WE ASKED THE ANGELS TO PLEASE WATCH OVER IT AND KEEP IT SAFE.
HERE YOU CAN SEE THE BEAUTIFUL BLUE ANGEL IN THE TREE ABOVE THE PEACE POLE
Please also note the circle of energy around the pole and the blue angel.
We do not have lights in our trees. (THIS VIEW IS LOOKING FROM OUR HOME OUT TO THE ROAD).
ASK AND IT SHALL BE GIVEN!
Photo by Bonny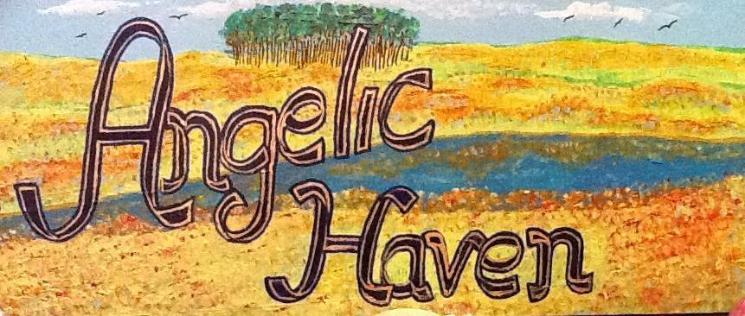 Angelic Haven sign created by Richard Springle.
This can be located at drive way by street with address number on top, for your ease of finding us.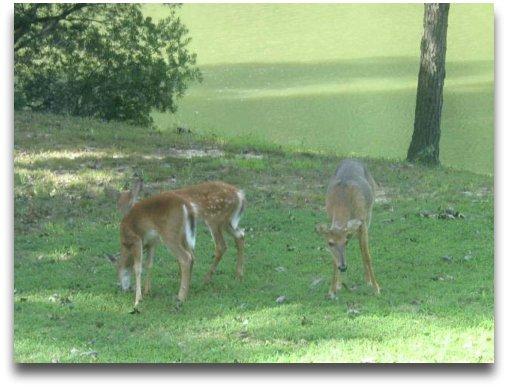 Regular visitors in our back yard on Lake Ernie photo by Bonny
WEEKEND RETREATS ON LAKE ERNIE WITH LOTS OF FRIENDS ENJOYING THE LAKE.
LOCATED IN BEAUTIFUL CAPTAIN'S COVE, GREENBACKVILLE, VIRGINIA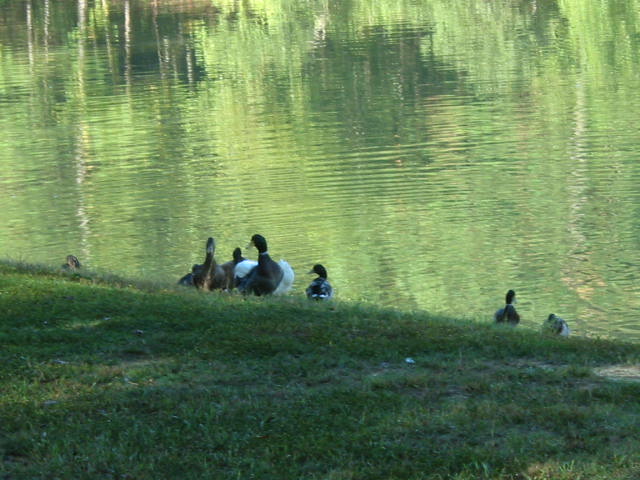 Retreats are kept small to allow for individual attention and comfortable accommodations.
Special individual and small group retreats may be set up as required.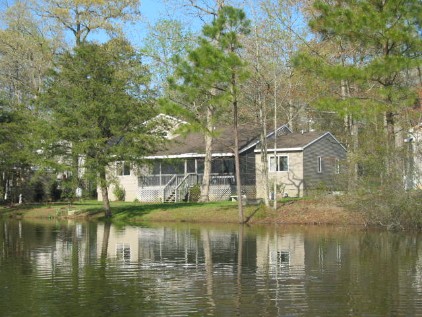 If you are interested in coming to a retreat here please contact Rev. Bonny
at 757-824-5317 or 347-782-1491
Or email at bonnyhughes@verizon.net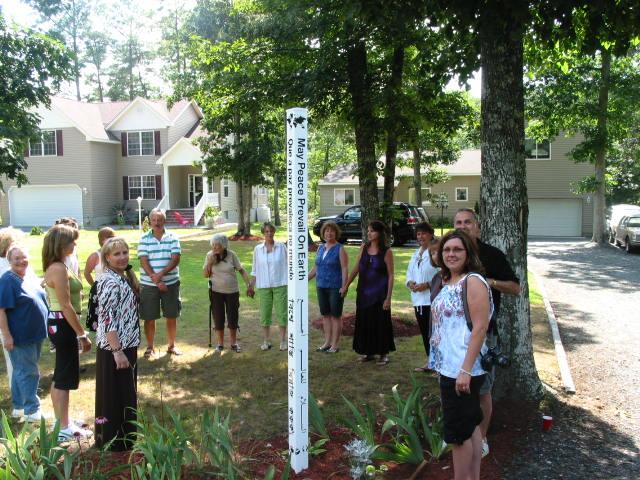 Dedication of Peace Pole with group at Workshop here. Photo by Bonny
JUST A MINUTE FROM THE CHINCATEAGUE BAY.
CAPT'S COVE
HAS A MARINA WITH INDOOR AND 2 OUTDOOR POOLS,

Located approximately 30 minutes north of Assateague Island, with beautiful pristine beaches (a wildlife preserve) where the wild ponies roam.
Also about 40 minutes south of Ocean City, MD , beautiful beaches and boardwalk
Whether we are in workshops, in meditation, healing sessions, cruising in the rowboat on Lake Ernie, horse shoes, bocce ball or many other relaxing things to do, it's all here to share with you.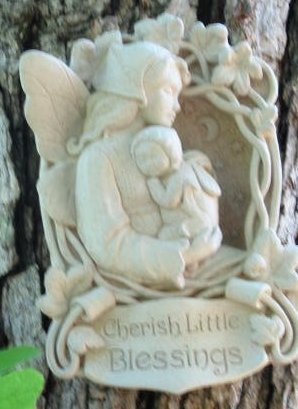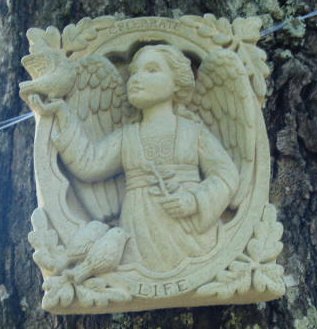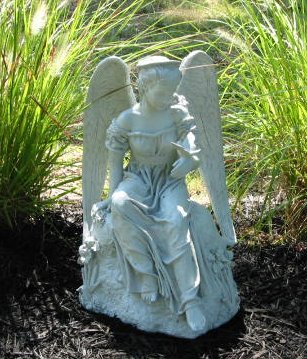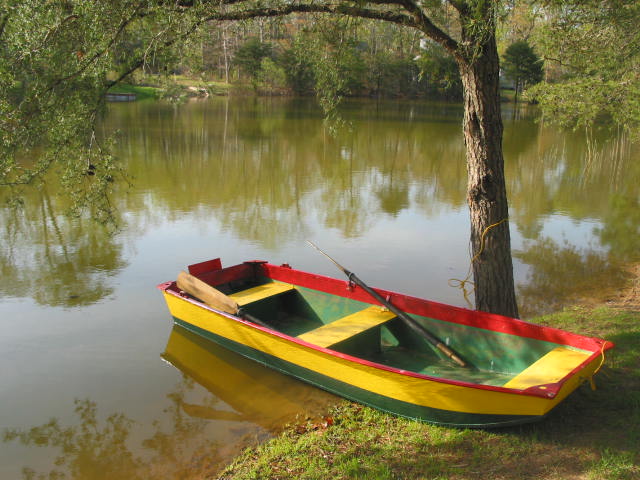 Ducks live here year-round and geese come and visit often. The lake has fish and turtles along with the blue heron and other wildlife in residence.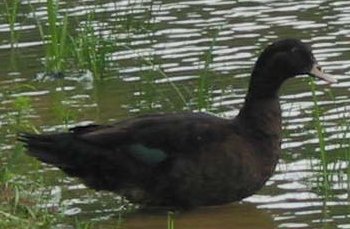 TESTIMONIALS:
This weekend was all around unexpected from the start . I was supposed to go with 2 friends who bailed on me and my "partner" was not very supportive of me even leaving.

I was skeptical about the whole event and I even felt confidant about the stereotypical women who may be at this event. Those that asked me what I was doing this weekend I would rotlely preclude with: "Well, I am loosing my mind, " and with a breathy voice laden with sarcasm continue with: "and I am going on a spiritual retreat." Evey cell in my body rolling their eyes at the concept that I would ever consider attending this event.

It was the first time that I had gone anywhere by myself since I had my oldest daughter (who is going to be seven). I felt that even if I got nothing out of this weekend that I was still going to be proud in the fact that I had driven for 3 hours and made it there and back.

As my previous e-mail stated I have never had a more intense and enlightening experience in my entire life. Bonny and Linda's echos of "It's your birthright..." stated over and over as a mother's subtle reassurance to her children that this is fact and must be known so that you can be successful in your own existence still resonate my core.

The angelic cherubs who run the spiritual center made me feel as if I have always been welcome there and they were truly happy I was "home" for the weekend, Amazing home cooked meals and a warm comfy room that seemed to have always been waiting for me made it that much more special.

My stereotypical ideal of the women who would attend "these kinds of events" was shattered. The circle of women that were there all had a warmth and (previously I would use the words coincidentally or ironically but...) not by chance each had a direct message for me. The bond that was formed is difficult to put into a black and white typed sentence, paragraph or even short essay as it was unique, powerful and beautiful.

I work in corporate America and those that I have told about the experience or how I am feeling now, ask "Can I go with you next time?" or "When is the next one and where?". Even in the world of suit and ties, panyhose and big girl shoes there is a hunger for understanding. Starting the seed of light in my rual neck of the woods has felt really rewarding.

This was one of the most intense things I have ever done in my life and all while sitting in a rocking chair! :) I received gifts from all of you on my way home. From the horse trailer i passed with the chariot strapped to the back, the quiet intense sunshine on my arm, geese in the sky, the even drum of rain on my car, passing thoughts of the experiences you all shared with me and echos of laughter . Even the rattling of my car reminded me of the absolute shaking my entire existence had received!
All of you have such special gifts that you shared me this weekend and subtle reminders have popped up all week from all of you. The bottom of my heart is not deep enough to express the love and gratitude I feel for each and every one of you!
Things do feel way different for me, negative conversations that would have gotten my stomach in knots, now seem to roll off me. I appreciated my little girls before but I now have a whole new and different understanding of them.
By trade I am a potter and this weekend was the first time that I have ever put it out into the universe. I felt a tinge of jealousy at the beginning of the weekend that Veda and Bronwynne had brought their beautiful, heart felt and creative gifts to share with the group. I have been ashamed of my passion. It was a screaming siren to me that jealously and shame is not the answer. Since i have gotten home I pour my self into what I love and find joy in the mundane and no longer view it as " hard work".

I work in corporate America and those I have told about the experience or how I am feeling now ask, "Can I go with you next time?" or "when is the next one and where?"
I have joined the ranks of the light workers and I will wear my mining hat with pride!
~ Megan, Buffalo, NY
Dear Linda and Bonny,
I can't thank you enough for this past retreat in Windsor. From the very first minute we were there the magic energy had begun. The two of you are the very best sisters I've ever known in all of time and in all of many life's! Every talk, session, and meditation was truly out of this world. Just how the 10 of us came together and blended so well was such a joy – what a truly fine group – huh? It was my first retreat at the Spiritual Center but I can see why you've returned every year. The center was perfect, the grounds beautiful and all the sisters were sheer Angels. They all really touched my heart in many ways! The accommodations, food, and artwork were just perfect – as were the women who have created and maintained this Godly piece of paradise. I pray to join you again many more years and want you to know how much I appreciate everything you have done for the retreat, and all your ministry work!
In Love and Peace
Marcia of Belle Vernon, PA
To all of my Spiritual Sisters,
It was an absolute pleasure to spend "quality" time with all of you beautiful women this past weekend. Each of you is a unique flower dressing this earth plane with your beauty and fragrance.
I love you and thank you for sharing your life with me at the Retreat.
Love, Light and Laughter, Rev. Patricia M. Rippel, M.Msc., Monongahela, PA
Copyright Bonny L Hughes 2013 all rights reserved.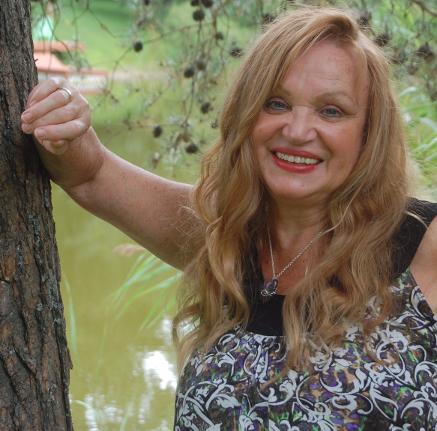 Come join us for a restful, peace filled week end.
Photos in VA by Jan Goldstoff from NY, NY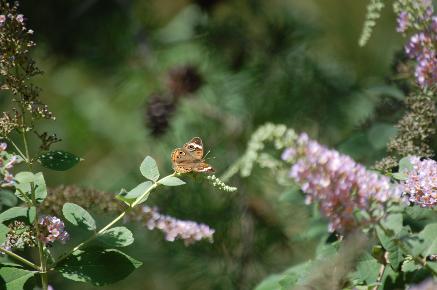 Beauty found every where in nature.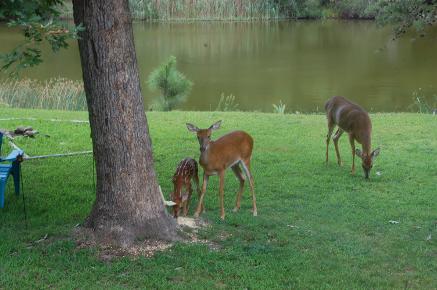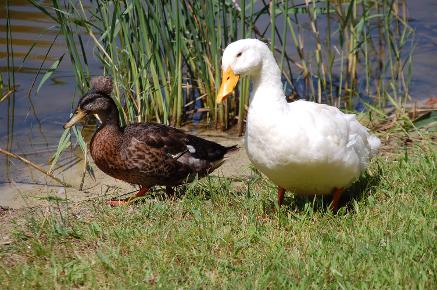 Angel Duck (the white one) was attacked in the spring of 2015 by something and lost his lower beak. He comes for meals 2X a day and his 'best friend' curly top was with him through the most crucial of times. Caring & sharing work with all of life.
In the fall of 2015, Angel Duck Passed Forward in our back yard at the water's edge. He will be loved and missed. We were so fortunate to have him in our lives.
Photos by Jan Goldstoff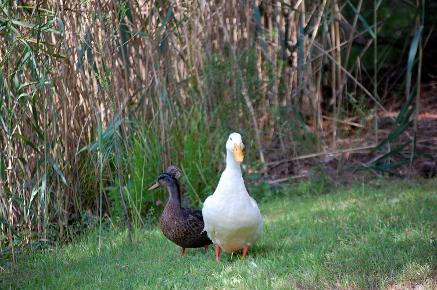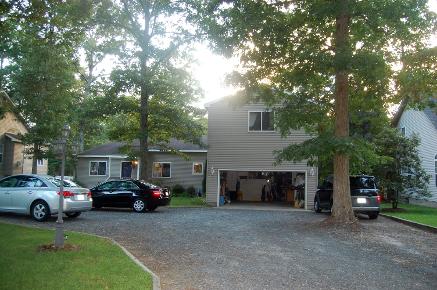 Chincoteague Island and Assoteague Island are a 20 minute drive away. Beautiful Bird watching area and home to the Assoteague Ponies.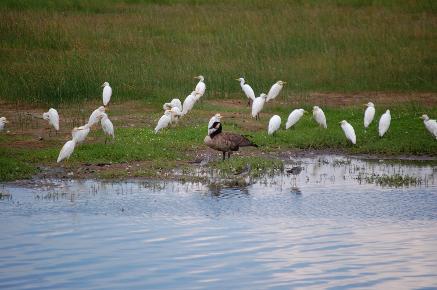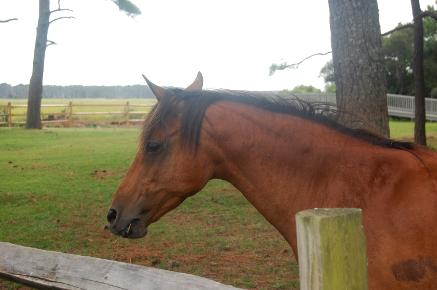 Chincoteague is also home to many wonderful shops where you can use your creativity to find exactly what you've always wanted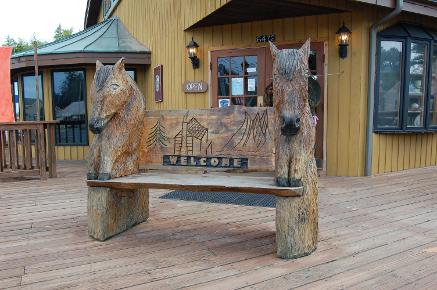 Angel Garden, Medicine Wheel, chairs, Bench, relax & rejuvenate or take a row on Lake Ernie.
Photos by Jan Goldstoff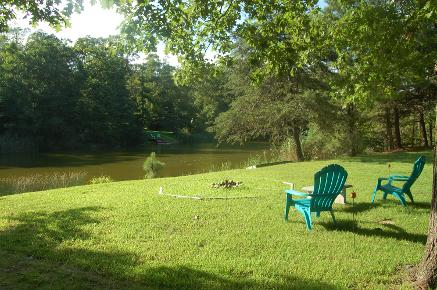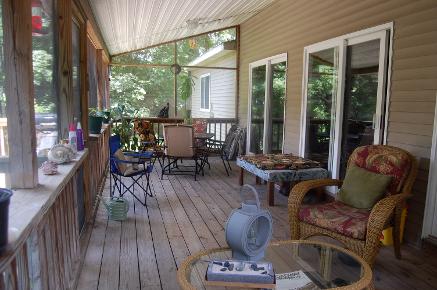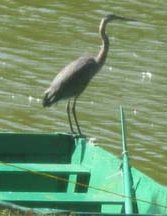 Photos by bonny
Relaxing screened in back porch.

Beautiful Big Blue Heron on rowboat in back yard on Lake Ernie